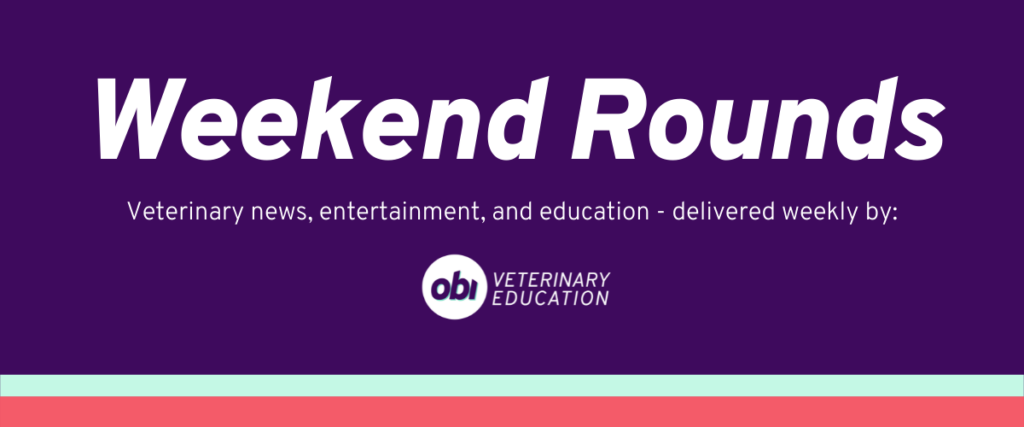 Weekend Rounds – August 14th, 2022
After a two-week summer hiatus, your favorite weekly veterinary newsletter is back! It has been a while so you would be forgiven if you need a refresher on what Weekend Rounds is all about. 

From the team at Obi Veterinary Education, Weekend Rounds (this very newsletter you're reading right now!) will keep you up to date on the latest veterinary news, entertainment and education. We try to have it ready for your inbox on Sunday mornings, but we're not perfect. Sometimes it's the afternoon, or evening. We send it when it's ready, ok?

We'll cover the typical stories that you're probably sick of reading about (you know, things like COVID, burnout, climate change and veterinary shortages) but we always try to bring the good news to light and a smile to your face (things like new DEI initiatives, fun animal facts, and memes). 

Today we've got a mixed bag. Here's what you'll find below:


 Pet owners sue IDEXX

Visualizing COVID in species around the world 

 Checking in those pandemic pets

Quick hits

Meme of the week
Is IDEXX inflating prices?
A class action lawsuit filed in California is alleging that IDEXX Laboratories has abused its market power through long-term contracts with veterinary practices and thwarted competition for diagnostic testing, which has caused consumers to pay artificially high prices for services.

The complaint represents thousands of class members from 14 states and seeks damages of more than $5 million USD. According to the lawsuit, the IDEXX division that sells pet products reported revenue of $2.88 billion last year and employs more than 10,300 workers in 33 countries.

Looking at the big picture: We're a long way away from this being settled, but we do know that IDEXX settled U.S. Federal Trade Commission (FTC) antitrust claims in 2013 at which point they were called the "largest U.S. supplier of diagnostic testing products used by small animal veterinarians."

FTC antitrust laws are making news elsewhere in vet med too as the nations two largest corporate consolidators, Mars Inc. and National Veterinary Associates, are encountering antitrust hurdles that have benefitted smaller companies looking to expand. Recently, regulators have started intervening more frequently in the takeovers of specialty and emergency hospitals which is opening the door for smaller companies to bid more competitively. VIN has a great recap of this developing story.

If the FTC sides against IDEXX, it could lead to antitrust regulations for diagnostic products, in addition to the acquisition of general practices.

Full disclosure: Obi Veterinary Co-founder Dr. Ryan Appleby is a part-time contract employee of IDEXX as a telehealth radiologist.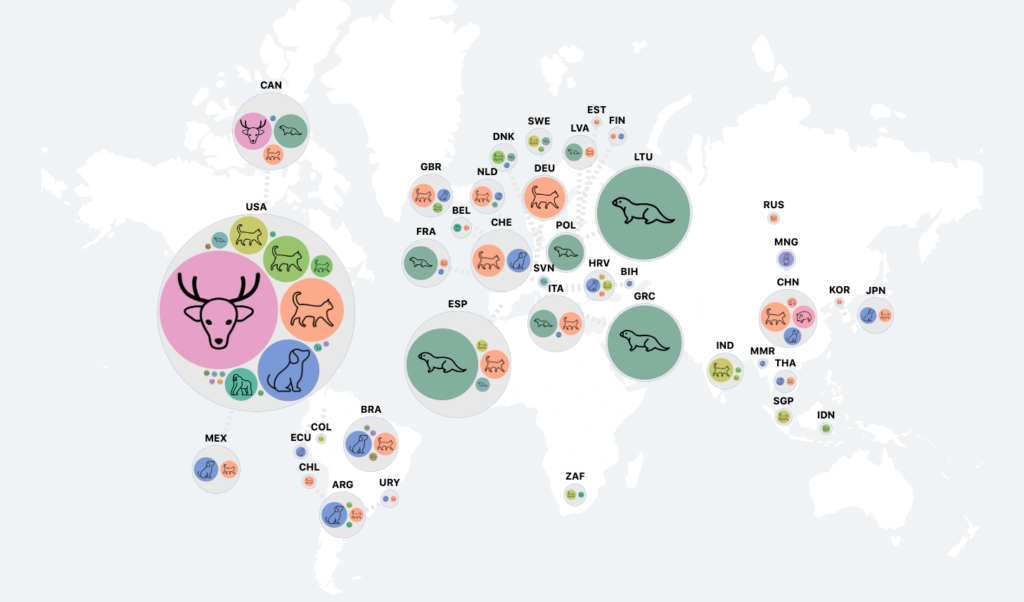 We're suckers for well-designed representations of interesting data, and a new interactive dashboard showing how many animal species have caught COVID has really hit the mark. 

Reporting on COVID in animals is not comprehensive so the dataset is far from perfect, but the new dashboard from Complexity Science Hub Vienna allows users to easily explore which animal species have been infected (via viral RNA) and/or exposed (via antibodies), the location, how many cases were reported for each species, and what happened to the animals. 

While deer, mink, cats and dogs lead the way globally in terms of infections – this may only be due to sample bias since all four species are tested more regularly than some of their more wild animal cousins. 

More on variants: The data is starting to paint a clearer picture that animals appear to be less vulnerable than humans to BA.5 and Omicron. Researchers at Texas A&M University studied infection rates among dogs and cats living in homes in which at least one person had tested positive for COVID-19 and the infection rate among their pets was 16%. Since the emergence of Omicron and BA.5 a similar study (albeit with few participants) is reporting an infection rate of 2%. Quite the difference and good news if it holds true over the long term. Read more on this in TIME.

There is also the first data that shows evidence of human-to-dog transmission of the monkeypox virus. We'll keep an eye on the latest and keep you up to date.
Your Pandemic Puppy was not a Mistake
Our good friend Sir Isaac Newton has been known to say that for every action, there is an equal an opposite reaction. And it did not take a ground-breaking mathematician to foresee that the action of increased pandemic adoptions would lead to the opposite reaction of an increase in pets being surrendered for adoption once COVID restrictions were lifted.

And that is exactly where we've found ourselves all over the world. You might be experiencing it in your day-to-day or maybe you'd like to read articles from Canada, the US, the UK, Australia… ok you get the idea.

But many families did not surrender their pets and those tiny little pandemic pups are full grown dogs. It is has been 2.5+ years since COVID entered our lives, and we're starting to see the longer term effects that the pandemic pets who've stuck around have had on their families. These pets have helped their families through tough times with social anxiety, depression, and exercise as a recent article from the CBC shows.

Just last week, the New York Times published an opinion piece titled, Your Pandemic Puppy Was Not a Mistake. The authors speaks to some of the challenges owners have faced since adopting pets – from rising inflation costs, returning to work, and finding emergency veterinary care – but ultimately shares why her adoption of their pandemic dog Rascal was a good choice and encourages other pet owners to keep their furry friends. It is great to see large media outlet give airtime to influence families to keep their pets if possible.

Why veterinary education needs major improvements [Psychology Today] 
Union forms at orchard park veterinary medical center [WGRZ] 
New model for veterinary care for those who can't afford it [CBS]

22 amazing women veterinarians [Today's Veterinary Business]
Oldest known relative of living animals named after David Attenborough [Science]
Timeline: The Domestication of Animals [Visual Capitalist]
Why some animals turn cannibal [Science]
World Bank announces fund for pandemic prevention, preparedness, response [AVMA]