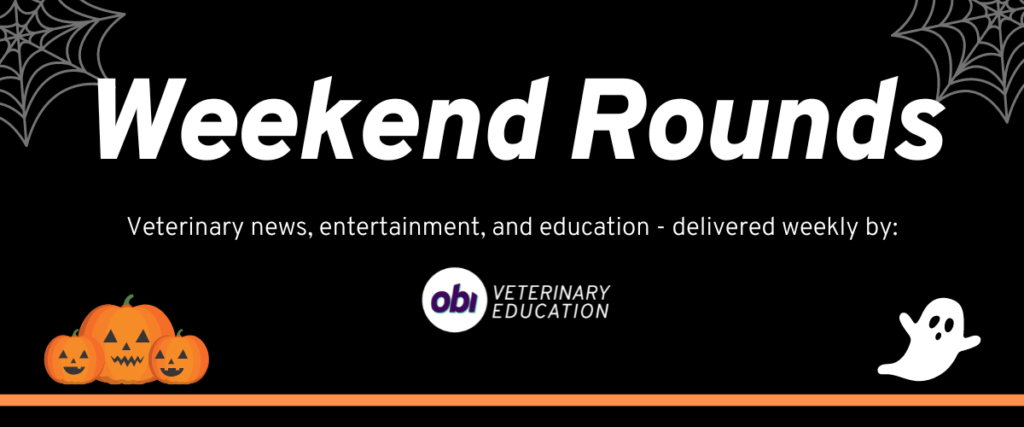 Weekend Rounds – October 30, 2022
Happy Halloween! 

It's that time of year again: pugs will be dressed as pumpkins, goldens will be ghosts, and black cats are back in style. We hope you have a spooktacular week fewer chocolate toxicity patients than you had last year. 

Here's what in our trick or treat pillowcase today:
👍 Good news in vet med
💜 Exciting news from Obi (hey, that's us!)
🌎 Good news for the animal kingdom
🚀 Quick hits
Steps in the right direction
While it's easy to get caught up with the negativity around us, a few stories from around veterinary medicine caught our eye this week that are undoubtedly steps in the right direction for our people and our profession. Here's a quick roundup: 

Zoetis has launched a new initiative called Project WAG (Wellbeing and Growth) to provide all veterinary professionals with easy access to resources and tools designed for self-care to help them set healthy boundaries at work, connect with the community and create more joy in their day-to-day work. We've often been skeptical (perhaps unfairly so), towards initiatives like this, but Project WAG is striking the right chords with us. While they do have a focus on promotion and prevention through community and educational resources – they are also encouraging you to get help when needed and have shared free access to licensed healthcare professionals.

The Morris Animal Foundation –  one of the largest nonprofit animal health research organizations in the world – has received funding from the Cathie Turner Sunbeam Fund for Hemangiosarcoma Research to support the discovery of better diagnostics and treatments of this devastating cancer. Morris Animal Foundation's Golden Retriever Lifetime Study has been collecting data on 3,000+ golden retrievers for 10 years, and the data to date clearly shows the leading cause of cancer deaths in the cohort of golden retrievers is hemangiosarcoma. 70% of all cancer-related deaths of Study dogs is caused by the disease.
Once again courtesy of the amazing team at Future Crunch, here are some of the latest good news stories from the world of conservation and preservation.

Via Future Crunch:
The endangered Galápagos Penguin has recorded its best breeding season on record. In 2010, conservationists began chiselling small holes out of lava for the birds after original nesting sites were taken over by feral predators. 12 years later, a quarter of the population are juveniles – a significant milestone for a species numbering less than 5,000 birds. Nat Geo 
A rewilding project spanning 8,500 km² of Spain's Iberian highlands is reintroducing black vultures, lynx, and wild horses. A herd of tauros – cattle bred to fulfil the ecological role of ancient aurochs – has already been released along with 11 semi-wild horses. It's the tenth project from Rewilding Europe, and the first one in Spain. Guardian 
A record-breaking 92 Saimaa ringed seal pups were born in the Saimaa Lake region of Finland this year, thanks to fishing restrictions introduced in the last few years. The population of the highly endangered species has increased by of 5.6% every year between 2015-20 due to reduced deaths from fish traps and nets. Yle 
Switzerland has reversed the decline of endangered amphibians in the Aargau region. In 1999 the canton decided a mass conservation effort was needed to combat the loss of frogs, newts and toads. Authorities, non-profits, landowners and volunteers worked for 20 years to build 422 ponds – resulting in an increase in almost every pond-breeding amphibian species. BBC
Here are some stories we're following this week from around the veterinary world and animal kingdom:
Giant sunfish sets new record for world's largest bony fish [National Geographic]
What is an animal's life worth? [Vox]
The Incredible Colors of Animals Mean Different Things, But We Just Found a Pattern [Science Alert]
Why Mars is Gobbling up Clinics in Canada [CBC]
Uganda's first female wildlife vet nominated for conservation prize [Monitor]
Pet ownership stabilizing in US [AVMA]